InGame related
---
Website related
https://electus.online/en/ranking


9 DG Final items : 90 Points per item
9 DG Seal of Star : 100 Points per item
9 DG Seal of Moon : 106 Points per item
9 DG Seal of Sun : 114 Points per item [Available after 6-7 weeks]
- Every item plus will add additional +1 points on your character ranking point
- Devil/Angel/Almighty/Leviathan Spirits plus will add additional +1 points on your character ranking point (MAX +5)
---
Other
How to donate & get Electus Cash:
1. Create an account
2. Verify your account (click the link in the verification e-mail you will receive in your mail box)
3. Login your account
4. Click on DONATE and wait for a few seconds until Superrewards application loads up
5. You will see the offers (payment methods) in your local currency.
6. We recommend you to check out every payment option and choose the best one for you. (Credit card = Low fee / more Electus Cash Mobile = High fee / lower Electus Cash , Other methods = Medium fee percentage)

How to use EPINs:

1. Superreward payment options differs in each country, so it might not be very ideal for you to use Superrewards application, in this case you can contact the re-seller.
2. The reseller will notify you with the available payment methods, you can get EPIN's that you can use to apply credits (Electus Cash) on your account.
3. EPIN sales are an alternative option to main payment provider Superrewards. EPIN sales are limited. The reseller might run out of EPIN's anytime. We don't guarantee that the re-seller(s) will be available 24/7.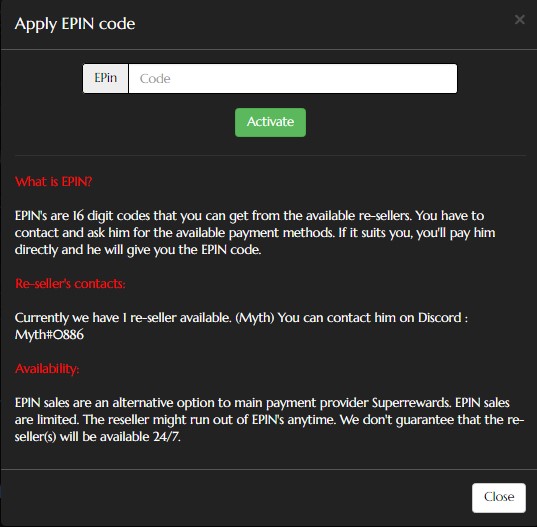 Yes. We don't IP-PC ban users unless they attempt to;
- sell silk for cash
- insult electus staff
- advertise other servers via globals/chat
However, you ''might'' get your hardware and ip unbanned if you submit a ticket on our website and provide us with;

1. Accountname in 100 cap
2. Your IP (go to iplocation.net and take a screenshot and include it in the ticket)
3. State the reason why you got banned & let us know that you won't intend to repeat it again
We will have your IP-Hardware data in our watch-list and keep an eye on your account and if you repeat those actions, IP-PC ban will apply with no going back ever.
This is a problem on 'CRACKED SBOT's end and has nothing to do with the server.
There is a glitch in sbot which is not fixed in sbot cracked version.
Bot-Cave (SBOT) released a fix for the original sbot version back in 2015 but the cracked version doesn't have the fix.
To avoid that, you can either use original sbot or mbot.
Jugadores en linea:

8211/9000
Tiempo del Servidor:
CAP: 110
Raza: CH & EU
PC Limit: 2
IP Limit: 4
Guild Limite: 24
Union Limite: 2

BATTLE ARENA - PARTY

LUCKY PARTY NUMBER

SURVIVAL ARENA - SOLO

KILL THE GM


CAPTURE THE FLAG

JACKPOT

SEARCH AND DESTROY

ALCHEMY

SQUID

MEDUSA

SERVER DUNGEON

UNDERGROUND

SELKIS & NEITH

DW (S) JOB KILLS

ISIS & ANUBIS

SPECIAL TRADE

FORTRESS WAR
Show More
Fortress war: Sunday 20:00
Hotan: Desocupado